Time to die, Daily Telegraph
I assume that somewhere along the line, good, intelligent people might work at the Daily Telegraph. I assume that their hiring process still attempts to skim the most capable candidates from the gaggle of journalism students desperate for one of the last real jobs that news journalism has to offer. I then assume that those successful candidates are taken away on a three-week Mao-style re-education camp where they have every skerrick of independent thought and journalistic integrity literally flogged out of them, quite potentially by Rupert Murdoch himself, dressed in his best scion of Satan uniform. I mean, there has to be some reason why a paper that supposedly fits into the Western tradition of news media is capable of coming out with a front cover like this: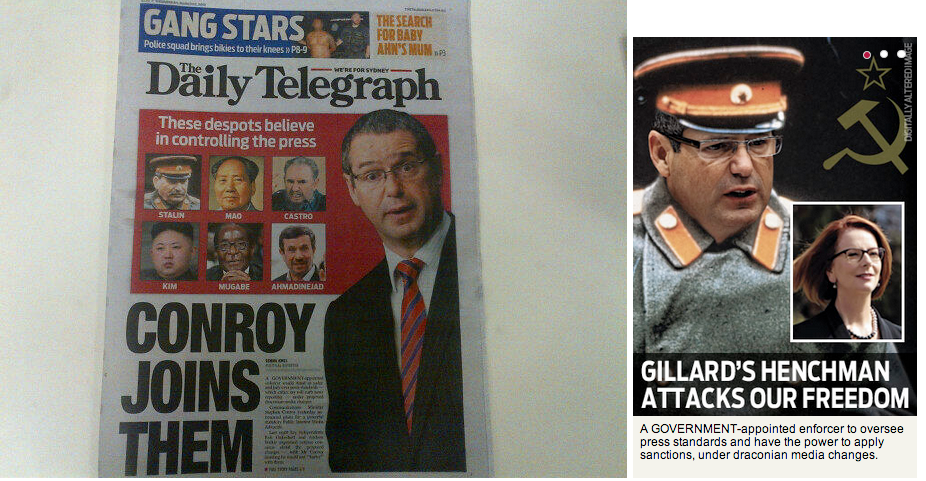 I cannot tell you how deeply repugnant I find this. Even by the standards of a newspaper like the Daily Telegraph, a rag of such persistently low quality that it should better be classified as a napkin, this dangerous, short-sighted, self-serving, blind, insensitive and hell, while we're at it, tiny bit racist front cover is deserving of every speck of opprobrium that you can muster.
Here's a prediction: if there was to be sufficient uproar that the Daily Tele powers that be felt compelled to defend it, they'd just claim that it was done in some sort of true blue, dinky-di "larrikin spirit". Because ha ha stop the funny train my cheeks are hurting and I think I'm going to throw up, Stephen Conroy's suggestion that maybe, just maybe print media should be subject to some of the same scrutiny that their broadcast journalism partners are is definitely on par with the actions of a suite of monsters whose regimes between them – as a very rough estimate – have overseen the deaths of some 100 million people. And when Conroy personally executes News Ltd CEO Kim Williams in the middle of a busy town square we can make that 100 million and 1.
I do hope that someone, anyone inside the Daily Tele building, or perhaps within the entire News Ltd organisation, sees the supreme irony of this national embarrassment. That they're accusing a Government Minister in one of the freest democracies on Earth of wanting to control the press while they labour inside an organisation whose ruthless intellectual lockstep demands such fealty to the whims of High Overlord Murdoch that they should perhaps more rightfully be considered the propaganda arm of the international News Empire.
Every time there's some new announcement regarding the financial struggles of Rupert's print media stable, people always make a comment about how he doesn't want to lose the papers because he still loves the medium that got him started. Bullshit. I'm more inclined to believe that, falling circulations and profit margins notwithstanding, Rupey knows that newspapers still have more power to shape public debate than any other form of news media. And that gives him the power to change political landscapes at will. Especially when, as is the case in Australia, you own 70% of the papers in a single country.
Now let's call a wretched abomination against the values of the Enlightenment a wretched abomination against the values of the Enlightenment: the world would be made immeasurably better if the Daily Tele just vanished. Or for that matter, if close to every news outlet simmering and sweating under the avaricious hate machine of Uncle Rupert simply ceased to exist. I know they're the most popular newspapers in the country, but that doesn't make them helpful or correct. It doesn't make them any less of a contributor to the intellectual deadening of public discourse. It doesn't make them any less wilfully and consciously petty, or cruel, or sexist, or racist. It just makes them glorified vehicles for humanity's base impulses. Having already abdicated from any tradition of proper journalism, the only purpose they can really be said to serve is keeping people up to date with what happened on last night's episode of My Kitchen Rules.
Of course even under the most monstrous Conroy-led dictatorship this sort of blanket disappearance would never happen, if only because they already propagate the sort of populist propaganda so beloved of authoritarian regimes the world over. And deep down I'm not really advocating the banning of papers I disapprove of either. Hyperbole to match hyperbole, etc.
But some form of independent media oversight – especially one as light and breezy as this – applied equally to Fairfax, News Ltd, the ABC and all others is long overdue in this country. And it won't demolish freedom of speech. It will enhance it. Because right now we have a deeply centralised media who can essentially do whatever the hell they want. Who have successfully reduced the idea of freedom of speech to a point where it is largely associated with vast media empires that possess nothing of the sort. Who too often abuse the position of power they have over their readers by printing mistruths, half-truths and opinion as if it's fact. Who occasionally destroy lives, just because it will sell papers. Who are willing to invoke the ghosts of the 20th century's greatest monsters, just because they fear losing any skerrick of their outsize power.
Basically, we gave them their freedom and they butchered it. I mean, truth be told, Mao and Stalin probably were worse butchers but, hey, that's not really what we're talking about.