Top 10 mixtapes of 2011 (so far)
What do you think of when you see the term 'mixtape'? We'd hazard a guess it's got something to do with warped cassettes and old girlfriends, Pearl Jam's 'Even Flow' shoved awkwardly against a Boyz II Men 'Best Of'. It might go further still, the concept having drifted into wider pop-cultural consciousness. Perhaps you think of
Singles
, Cameron Crowe's Seattle tape dressed up as Gen X drama. Or maybe
High Fidelity
, the Nick Hornby book/John Cusack film. But there's an alternative history to the mixtape, one borne out of necessity rather than unrequited love and callow artistic statements.
Cut to the 70s and the early days of hip-hop. Steaming Bronx nights. Bumping block parties. Speaker stacks pulling power from city streetlights. Herc's soundsystem versus Bam's records versus Flash's technique. This holy trinity of hip-hop were divvying up the Bronx, yet nobody outside of the borough had heard of them or their oddball brand of music. The record companies refused to touch them. The radio stations refused to play them.
The only way to spread their music was by committing it to tape and then passing it round at parties and shows. When more tapes became available, they began to be collected and traded by fans, and as soon as a market was created the practice became self-perpetuating – even as artists such as Kurtis Blow and the Sugar Hill Gang were landing the first hip-hop record deals.
And the hip-hop mixtape has continued its run right into the new millennium. The only difference now is in the distribution, with the internet cutting out the need for specialty rap shops and cutting in a global audience. Lil Wayne, Yelawolf, M.I.A. and Danger Mouse have all launched or re-launched their careers using mixtapes, which are often little more than an album with greater artistic freedom, and reviewed and rated as such by hip-hop publications. Still, the listener (legally) doesn't pay a cent.
Many US record executives now see mixtapes as yet another form of advertising in the brave new digital world, and have begun funding them out of their company budgets. And yet mixtapes are largely unknown in Australia. Some of the best music released this year has been for free, but you'd hardly know about. With the mid-year now past, TheVine thought this a good opportunity to shine a light on mixtapes, and highlight some of the best releases of 2011 so far. Cut by cut, this is excellent music – some of the best you'll hear all year – and the only thing you'll need to pay is maybe a few magic beans. Read on and ready some browser tabs.
--
10. Curly Castro
Winston's Appeal
(Self-released)
Ostensibly released as a free album,
Winston's Appeal
is an excellent place to start in 2011 when talking mixtapes. An album it may be, but having been put together over a number of years with a bunch of different producers, it almost sounds like a mixtape: the record shifts around stylistically and features one too many (admittedly great) sampled interludes, interrupting the flow of proceedings.
Curly Castro as an MC is like a boxer, the Philly-native stepping smoothly round the ring until he opens you up with a series of snarling verbal jabs. It's often thrilling stuff, particularly on a cut such as 'Catch-A-Riot', where Castro advises that
"It ain't enough to just make a good rap song / You've gotta stuff some rebellion in the pipe bomb." Winston's Appeal
may be a touch too restless in style to qualify as a truly great record, but you know you're onto something special when your favourite song changes week-to-week, the vibrant Castro delivering enough gold to have you locked in for a good couple of months.
Download:
Curly Castro – Winston's Appeal
--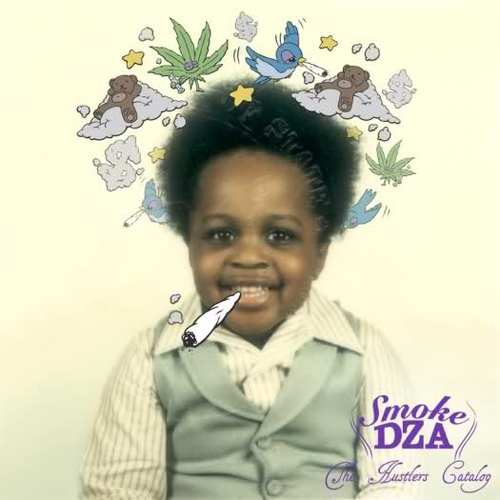 9. Smoke DZA
The Hustler's Catalog
(Self-released)
Hustler's Catalog
could easily put you off upon first listen: there's the Sheen-isms and DZA's signature adlibbed
"Riiggghhhhttt."
But patience is rewarded on this excellent tape. There's no doubt that DZA navigates within his own lane, but there's more to him than just weed and fantastic album covers.
The Hustler's Catalog
features at least five different producers – Big K.R.I.T., V-Don, Hit Boy, Hi-Tek and Lex Luger – but the hazy '70s funk focus never shifts from the main attraction, even when he's joined by K.R.I.T., Devin the Dude, Big Sant and Killa Kyleon – a list that indicates his standing within the genre. DZA's flow covers his humble beginnings, working corners and settling beefs, but is always tied together by his love of life's more herbaceous qualities. This is a great little tape, one of the best of 2011 so far, and goes some way to solidifying Smoke DZA's presence on the American scene.
Download:
Smoke DZA – Hustler's Catalog
--
8. Fiend
Tennis Shoes And Tuxedos
(Fiend Entertainment)
Curren$y's baritoned brother-in-arms, Fiend adopts his alter-ego International Jones and trades half his weed habit for a magnum of champagne on the fantastic
Tennis Shoes And Tuxedos
. Fiend is a romantic – a lover, not a fighter – and it drips out of this mixtape via cinematic Western cuts and Marvin Gay-laced loops. You'd be hard-pressed to find a more charismatic rapper on the southern scene; the New Orleans native always arrives at the end of his couplets in his own time, never hurried nor hashtagged. He's not afraid to stretch the vocal cords either, although when he does it's more Hayes than Gaye. Fiend is all iron fist and velvet glove – the kind of playboy that both you and your girlfriend want to get to know. And in that sense, he probably does
"take a piece of Cali-Fornia"
everywhere he goes. Extra points for the cover.
Download
:
Fiend – Tennis Shoes And Tuxedos
--
7. Frank Ocean
Nostalgia/Ultra
(Self-released)
If Tyler, the Creator got the blogosphere's attention, and Earl Sweatshirt the rap critic's respect, it was Odd Future's Frank Ocean who caught the eye of America's record labels. Ocean's story is a great example of the power of the internet and why the hip-hop mixtape has surged back into significance. Having helped pen tracks for both Brandy and Justin Bieber, Ocean signed to Def Jam at the beginning of 2010, but soon sat ignored on the label's roster. The Los Angeles-based singer responded by taking his album and releasing it via his Tumblr account, free of charge. Suddenly
Nostalgia/Ultra
for all intents and purposes became a widely circulated mixtape.
Def Jam must have been kicking themselves, but you can understand their initial hesitation:
Nostalgia/Ultra
is so close to Top 40 radio, and yet it's not. A darkly funny and knowing atmosphere prevails over this tape, Ocean bending to his will the R&B beats of genre super-producers Midi Mafia and Tricky Stewart with surreal lyrical non-sequiturs and twisted takes on love and loss. It's as if the whole thing was created by David Lynch. Ignore the seven-track EP version of the tape – Nostalgia, LITE – that Def jam is supposedly releasing any day now, and try and find the original.
Download
:
Frank Ocean – Nostalgia/Ultra
--
6. Curren$y
Covert Coup
(Warner Bros.)
All hail the power of the mixtape. Warner Bros. may now be concentrating on Curren$y's official album release,
Weekend At Burnie's
, but in late April the American major was busy pushing the New Orleans rapper's team-up with producer Alchemist,
Covert Coup
, as a free online release. Borne out of an off-the-cuff recording session between the two artists, the success of
Covert Coup
makes you think it won't be the last time these two get together to smoke blunts and lay down some cuts. In 2011, Curren$y is a guy at the top of his game – he could rhyme about your tax return and make it sound compelling – and on this quickfire tape he drops some classics:
"White carpets in my Scarface house / No undergarments on my Scarface spouse,"
or
"Connecting four marine batteries on the side of the trunk /
To go with them other four batteries that's piling the pumps
/ It's the juice and them cylinders that make the Chevy jump."
Matched to Alchemist's woozy, 80s B-movie inspired beats, there's something a little off – and thus compelling – about the whole tape.
Covert Coup
is a great primer for
Burnie's
; download the former and then go buy the latter.
Download
:
Curren$y – Covert Coup
(Continued next page)