Music Dump - Wilco's R.E.M in Cool Dad's Riot Grrrl Nirvana
A recurring feature where we find the week's best music articles from across the web...

--
Funk Legend Sly Stone Homeless And Living In A Van In LA by William Alkema and Reed Tucker (New York Post)
: By rights, Sly Stone should be a very rich man. His music is timeless, both critically and popularly acclaimed. If James Brown was the godfather of funk, Sly was pretty much its father. But, yes, now he is homeless. Living in a van. Prone to paranoia. Imploring people to buy his music. By the sounds, Sly made a whole bunch of bad business decisions because he wanted money
at once
, not thinking about the future. Welcome to the wonderful world of cocaine addiction, kids!
--
Wilco Is Maturing, But It Is Not Growing Soft by Todd Martens (LA Times)
: Wilco have a
new album out
, and there have been a whole bunch of fairly drab articles about how this album's more experimental than the last two. This one is different though. Between the chicken paddle, Jeff Tweedy randomly shouting "That blueberry compote changed my life", and the descriptions of the band's lofty aims, I reckon you get a much more rounded sense of what Wilco is like.
--
Cool Dad Raising Daughter On Media That Will Put Her Entirely Out Of Touch With Her Generation (The Onion)
: Now, I could describe the article like I usually do, but it's The Onion, and the title is as self-explanatory as it is genius. But the picture that accompanies the article is a work of art too: a teen girl holding a vinyl edition of Talking Heads'
Remain In Ligh
,t as her obviously very proud Dad looks on. It's the expression on her face that does it – she is trying to look happy for her Dad's sake, but inside you can tell she would much prefer to listen to Ke$ha if she could get away with it.
--
Revolution Girl Style, 20 Years Later by Rachel Smith (NPR's The Record)
: Right now, the world of music journalism is slightly obsessed by things that happened 20 years ago, and Rachel Smith is no exception – here she looks at the history of riot grrl, about where bands like Bikini Kill and Bratmobile came from, and how they went from a zine or two and some DIY concerts in 1991 to there ended up being a riot grrl character on a US TV sitcom in 1995 to the Spice Girls taking one of their slogans ('Girl Power') to worldwide success. Is the sass in the Spice Girls (that may not have been there otherwise) a good thing to get out into the mainstream? Or were the Spice Girls a betrayal of riot grrl's principles?
--
Imaginary Stories by Tom Ewing (Pitchfork)
: Ewing has recently been listening to
Science Of The Sea
by Jürgen Miller, an album which claims to have been recorded in 1979 by a scientist who wanted to artistically describe the world he saw on an expedition at sea. Except,
Science Of The Sea
is a fake.
The British pop band XTC decided in the mid-80s to put out an EP or two by their own fake 1960s pop psych band, the Dukes of Stratosphear. , and you know what? There's a giddy intoxicating sense of fun in the Dukes of Stratosphear, that is entirely missing in their 'proper' XTC albums of the time (and it apparently sold better than those albums too!). What this says, is that though rock music puts a premium on the authentic, sometimes a fake identity means the musician can freely explore, outside of the burdens of expectation and context. Which ultimately might be more authentic, in a funny kind of way?
--
Man Buys Pink Floyd Box Set, Puts It On Shelf, Feels Sad (The Daily Mash)
: This week, Pink Floyd released not one but two expensive box sets! And they will get bought. Possibly by me, in a moment of weakness. And if I buy it I suspect I will feel a little bit like Tom Logan, the (totally made up) 48-year-old profiled in this article, who loved this album when he was young but now, as a responsible adult with an unfulfilling, well-paying job, will never open the box set because it is much more valuable sealed than open.
--
Album Of The Day: Nirvana's Nevermind by Zach Baron (The Daily)
: Another box set that just came out is the 5 disc Nevermind box set, full of b-sides, alternative mixes, rehearsal tapes, and live concert footage and recordings. And as a result there's been much pontificating about the meaning of
Nevermind
, about why the album matters where, for example, the Billy Ray Cyrus album that came out around the same time doesn't. Baron argues, convincingly, that it's not really about the music, per se; instead,
Nevermind
and the grunge movement it spawned represented the first real pushback against baby boomer cultural hegemony in the U.S. (or here – I doubt that the likes of Glenn A. Baker or Molly Meldrum would care much for the album). Which is why the snatch of the hippie anthem 'Get Together' by the Youngbloods that is sung at the start of 'Territorial Pissings' sounds like a taunt. Mind you, 20 years later, all the acres of newsprint devoted to
Nevermind
probably just comes across as Generation X cultural hegemony to the kids now at uni, who weren't even born when
Nevermind
came out.
--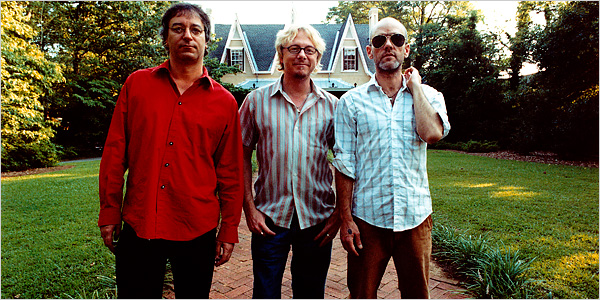 A Whole Lotta Writing About R.E.M. by various people in various publications:
You've already heard that R.E.M. broke up. But you may not have read some of these bits of writing, which are thoughtful and insightful? Sasha Frere-Jones's
tribute to them at the New Yorker
is poetic and insightful. Eric Harvey
in the Atlantic
makes the just slightly massive call that R.E.M. were America's greatest band – their streak of excellent music lasted longer, he argues than any other band, including Wilco, The Beach Boys, and the Grateful Dead (I disagree, of course – I always liked R.E.M., and own seven of their records, but I just don't feel them the way Harvey obviously does!). Dorian Lynskey
in the Guardian
applauds R.E.M. for keeping their dignity as they declined, while Rob Sheffield
at Rolling Stone
applauds R.E.M. for
not
keeping their dignity as they declined; he finds it inspirational that they kept plugging away at stinkers like
Reveal
.
Speaking of dignity,
Stereogum point out
that Michael Stipe has been posting pictures of his penis to Tumblr. Maura Johnston at
the Village Voice
looks at the changes in society and the record industry that basically made R.E.M. give it up - there just wasn't the same cultural space for them as there was in the 1990s. And David Fricke at
Rolling Stone
; talks to R.E.M.'s Mike Mills about why they decided to call it a day after so long. Finally, in case all of that isn't enough R.E.M. writing for you, did you ever see Matthew Perpetua's
Pop Songs 07-08 blog
? It discusses almost every R.E.M. song insightfully – so much so that the famously guarded Michael Stipe decided to (quite candidly) answer various questions from Perpetua and his readers.
Tim Byron