Music Dump - Whitney Houston's Cat Death Tumblr Waits Radiohead Getting Laid
A weekly feature where we highlight the best and most interesting music articles from across the web.
--
Female Musicians Never Get Laid by Ellen Campesinos! (Nerve)
: According to Ellen Campensinos! (above, second from left) the bass player for Welsh indie band Los Campesinos!, it kinda sucks being a single female in a touring band, as far as sex goes. She is uncomfortable sleeping with fans who are in love with the music, rather than attracted to her for who she is, and it's sometimes a bit weird sleeping with other bands they're touring with – if it doesn't work out, you're stuck with them for weeks on end! Takeaway message: Ellen is likely to have no shortage of admirers at shows after this article.
--
Gillian Welch: 'A Lot Of The Songs Are Done In One Take. Maybe Two' by Phil Hogan (The Guardian)
: Hogan's profile of Gillian Welch and her partner David Rawlings is to coincide with their British tour, but this goes further into what makes them tick than the usual "come to our show next week" interview. One of the things that fascinates me about Welch is the extent to which she is 'authentic', and here she certainly comes across as having experienced the hard times you hear reflected in the music. On the other hand, when Hogan asked the two if they were not just musical partners, they say 'that's not part of the act'. According to their website, Welch and Rawlings haven't got any shows booked next year yet. HINT HINT, Australian festival organisers and touring companies.
--
Taking Pictures Of Taking Pictures by Mark Richardson (Pitchfork)
: Richardson here draws the comparison between what people do on Tumblr – reblogging other people's vintage-y pictures and drawings and music to express themselves – and what a lot of hypey bands and musicians seem to be doing these days, from Lana Del Rey (above) to Dirty Beaches. And how this practice is not so different to what David Lynch did in his movies, either. We like to believe that our favourite musicians are unique snowflakes, but I think for most musicians, music
is
like a Tumblr, where they can take bits and pieces of what they like and stew it together to see what fits together.
--
My Madness Life: How The Bizarre Death Of Suggs' Cat Set Him On A Personal Odyssey To Retrace His Chaotic Childhood – And Launch An Emotional One-Man Show by Richard Barber (Daily Mail)
: Listening to the hits of Suggs' band Madness - 'House Of Fun' and 'Our House' – you get the impression that Madness are one of those quintessential suburban English bands like the Kinks or Blur, and that Suggs' experience growing up was much like the working-class silliness they take the piss out of in their video clips. But this is not the case at all! Suggs' dad was a heroin addict who left when he was young (and who eventually died of an overdose), and his mother was a jazz singer who struggled to get by, and who dragged him along to smoky clubs when he was a kid. Oh, and his cat's death really was weird.
--
The Failure Addict by Rob Horning (The New Inquiry)
: John Phillips had it all – a very successful band (The Mamas And The Papas), the ability to write songs like 'California Dreaming', a beautiful wife (Michelle Phillips), access to everything he could ever want. And yet, he makes Pete Doherty look like an upstanding citizen. After all, his 1970 solo album does feature a song where he discusses shooting heroin with another woman as his girlfriend has a miscarriage. Horning argues that the kind of pressures that led to Phillips becoming such a fuck-up are intensified with the social media world we live in – notoriety often gets more page hits than achievement and talent these days. See Kyle Sandilands.
--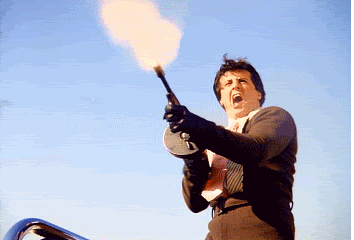 Tom Waits – Bad As Me (Trial By Gif)
: This is a great idea for a tumblr: review an album by going through the album song by song and attaching a gif to each title. The best is the gif used to describe 'Hell Broke Luce' (above), which — to my mind — is precisely what that song sounds like.
--
A Brief History Of Rappers Sampling Radiohead by Christopher R. Weingarten (Spin)
: In the 1980s and 1990s, rappers were all about sampling old soul and funk grooves. It's never died off (see 'Otis' by Kanye and Jay-Z), but these days rappers get their samples from a variety of places, and a surprising amount are inspired by the art rock misery of Radiohead; witness Lloyd Banks, who samples 'Climbing Up The Walls' on 'Cold Corner 2 (Eyes Wide)' or Joe Budden, whose song 'Never Again' features him rapping over the riff from 'Street Spirit (Fade Out)'.
--
Whitney Houston – I Will Always Love You by Tom Ewing (Popular)
: I suspect that most music fans alive who remember 1992-1993 have an instinctive distaste for 'I Will Always Love You', because it was inescapable, on top of the charts for forever, the way that Bryan Adams' 'Everything I Do (I Do It For You)' was in 1991. But, with almost 20 years' distance, Whitney's vocal on the track is pretty impressive – she carries the song, fills it with life, in a way that few R&B singers could do now (Beyoncé being an exception). But the robotic backing track and saxophone solo don't do the song any favours. And of course, it's hard to go past Dolly Parton's original (see this great live version from 1974)
Tim Byron