Music Dump - LMFAO's Cyndi Lauper's Semisonic Lana Del Ray Jazz
A recurring weekly feature where we highlight some of the best and most interesting music articles from across the web.
--
We Are All 'Closing Time' - Why Semisonic's 1998 Hit Still Resonates by Steven Hyden (Grantland)
: Late 1990s songs like 'Closing Time' by Semisonic, 'Semi-Charmed Life' by Third Eye Blind, and 'Breakfast At Tiffany's' by Deep Blue Something have this weird sort of appeal these days -- they were always competently written songs by journeymen songwriters, but it's hard to imagine anyone wetting themselves at a Semisonic concert the way they now do to Bieber. Still, those songs were everywhere at their time. So now, strangely, when we hear them, we are reminded of, say, being on a bus going to school, or that time that we went to a party and that girl you liked was singing along without realising it.
--
Penis Party: LMFAO's Delicious Satire Of Manliness by Jonah Weiner (Slate)
:
Slate
is famously contrarian, taking a particular joy in thinking the opposite to everyone else, and Jonah Weiner, their music critic, knows the score: he once wrote a column claiming that
Creed are totally underrated
. So if you think LMFAO sound remarkably like the soundtrack to the apocalypse (as I do, frankly), you may not agree with this article, which claims that LMFAO are satirical geniuses. But you'll probably have quite a lot of fun reading it. Also, you'll discover which LMFAO song has the lyric that goes
'Your royal penis is clean'.
--
The International Sweethearts of Rhythm by Megan Mayhew Bergman (Oxford American)
: I hope the movie rights to this article are snapped up, because it's a hell of a story! In the 1930s, the girls at a school for poor girls in Mississippi formed a jazz band and got very good - word was they could play just as well as male bands at the time. The school bussed them around the USA as a novelty act, and they played so many gigs and were so successful, that the school deliberately stopped the girls from graduating so they could contribute to bringing in the moolah -- all while the girls were paid a pittance for their work. Until, one day, the girls rebelled and hijacked the bus to start out on their own.
End credits.
--
Last Dance: The Triumph Of The Mainstream by Nitsuh Abebe (New York Magazine)
: These days, mainstream pop is, well, pretty mainstream and pretty pop. It's all danceable uptempo pop tunes with bright sounds, performed with pizzazz by white people, loaded with hooks. I mean sure, that's pretty obvious right? It's like saying that Kyle Sandilands has some detractors. But 5-10 years ago, pop didn't sound like this at all - it was all skittering R&B beats and darker themes - think about the difference between Missy Elliott and Nicki Minaj.
--
Where In The Hell Is Jason Molina? by Henry H. Owings (Chunklet)
:
Chunklet
magazine is famous in the US indie scene for its snark. Take for example the article
"Dear Rock Star"
, where they ask questions like:
Dear Red Hot Chili Peppers, do you realize that overweight soccer moms and aging lame yuppies trapped in 1993 are your fanbase now?
(and believe me, the 'Dear RHCP' isn't anywhere near as snarky as some). And so it's sort of weird but also sort of great to see Owings (who basically is Chunklet) write a heartfelt and quite depressing post about seeing his friend Jason Molina (of Songs:Ohia and Magnolia Electric Co) struggle with a drinking problem.
--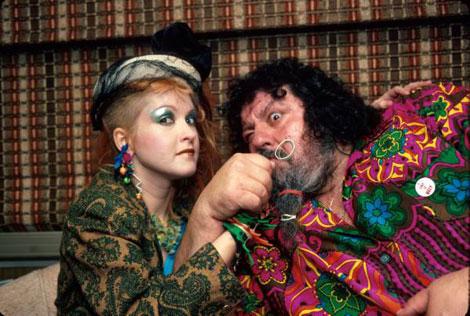 Cyndi Lauper Dishes On 'Women Who Rock' And Arguing With Paul Simon Over The Rock Hall's Gender Issues by Amy Klein (Spinner)
: When Cyndi Lauper suggested to Paul Simon that Wanda Jackson should be inducted into the Rock and Roll Hall of Fame, Simon said she wasn't popular enough. Big Mama Thornton wasn't
rock and roll enough
. It's interesting here to see Lauper a) show a super-detailed knowledge of music history, and b) reflect on the little bits of casual sexism she came up against in the music industry. Men putting together things like the Hall of Fame often only care to award other guys who they relate to, dismissing out of hand musicians that women might dig.
--
A Photograph Of A Polaroid Of A Terrified Girl: Lana Del Ray, Bowery Ballroom, 12/5/11 by Russ Marshalek (soldout)
: Marshalek here writes about a Lana Del Ray show he saw - she of 'Video Games' and rumours about collagen injections and
authenticity
- and gets the impression at the show, as Del Ray sang song after song about aimless girls who want a man to tell them what to do, that she didn't want to be there at all. Is it because she hates the songs, or because she herself is an aimless girl with men telling her what to do?
It's a thoughtful piece, but I'm not entirely sure that it's necessarily a bad thing for a girl to be singing a lot of songs about aimless girls that are frustrated with their relationships. And it's also possible that Del Ray was just having a bad night, or that Marshalek's being completely unfair. Perhaps Del Ray's music really
does
live in a lot of the faultlines that make people argue about music - I can imagine other critics taking all the things that Marshalek hated about the show and digging them. (Disclaimer: I find 'Video Games' oddly compelling, but I still haven't decided if I like it or not).
--
I Think I Am Writing About My Favourite Albums Of 2010, But I May Not Be by Scott Tennent (Pretty Goes With Pretty)
: Right now, there's a million different Best of 2011 lists going up at publications like
Mojo
,
Uncut
, and
Stereogum
(as well as coming up on TheVine). But here's the top 10 things that are wrong with top 10 lists: 1) Music isn't sport, (sorry Regurgitator). 2) Those lists tend to favour the albums that everyone kinda liked rather than the ones that changed one or two people's worlds. 3) People have a thousand different reasons for wanting to listen to music, and
Stereogum
's list, for example, may be a good guide to what music might be appropriate in ten of those thousand situations. 4) The arbitrary length of such lists mean that half of the them run out of steam pretty quickly.
So anyway, it's nice to see Scott Tennent here reflect upon his favourite music, the stuff that really meant something emotional to him this year, and to explain how he lived with this music. Reading this made me want to listen to Feist's
Metals
much more than seeing it at the top of a
Mojo
list made me want to listen to it. But maybe that's just me?
Tim Byron