This is how you do April Fools right!
April Fools is, as we all know, the day on which japes are carried out at the expense of all and sundry. It's also named in honour of April Fowles, the botanist aboard the Mayflower, who set herself on fire before running around the ship yelling 'i'm having hot flushes!'. What a merry trickster she was.
The internet, however, is far more fluid a medium in which to frolic on the first of April than a cramped ship. As such, April the first, or 'April Fools', as nobody actually needs clarified but I've gone and clarified anyway, is a pretty sweet day on the internet. Wait. Did I sweet? I mean annoying as hell. Here's the pranks which made me happy face, as opposed to sad face. Or, god forbid, poop face.
How about some Adblock wonderment?
Google, who to be fair have a bit of money and manpower to throw at stuff like this, have decided to accounce their new service today: 8-bit Google Maps.
It'll be pretty tough to compete with that, right?
…I bet you expected me to bellow WRONG just now. All these pranks have me worn out. Feeling lachrymose. But you know what always picks me up? FAKE MERCH. Thinkgeek pulled out two awesome fake products as part of the April Fools festivities. First up, Minecraft Marshmallow Creeps! Peeps are these weird and as a result totally diabetically fantastic marshmallow birds.
Yeah, like that. Only… MORE SO. So Thinkgeek marketed a line of them based on the Creepers from Minecraft.
And then they went and threw down a Skryim April Fools: a Skyrim hoodie. The only reason this one pissed me off is that I now want one and because it's fake I won't GET ONE.
From the official description:
Dress like a true son of Skyrim! shout like the Dovahkiin!

True sons of Skyrim know that Windhelm isn't the only place in Tamriel where it snows. Skyrim is cold and unforgiving, and that's why we created the Skyrim Electronic Dragon Shout Hoodie. Whether you're rocking the Ratway in Riften or scaling the Throat of the World, this hoodie will keep you warmer than a thick layer of troll fat.

And since we've maxed out our smithing skills, we've gone the extra step of enchanting this hoodie with our patented electronic apparel technology. That's right, in addition to looking like the Dragonborn you can shout like a Dovahkiin too! The attached speaker connects via a fabric channel to a powerful mini-amp. All 20 Dragon Shouts available to the Dragonborn are there at the touch of a button and without the need for any dragon souls. The hoodie is 100% cotton and features a face mask hood, complete with horns. What are you waiting for, Dragonborn? Let us test the power of your Thu'um!

Well played, Thinkgeek.
Oh, wait! They have one more amazing piece of bullshittery that I'd be remiss not to point your way:
ADMIRAL ACKBAR SINGING BASS. I don't think I need to go into any more detail than that.
Next, Harmonix, the guys who release the Rock Band games that I'm totally adequate at, have pumped out a press release for their TOTALLY LEGIT NEW BUSINESS ENDEAVOUR. Are you ready? You're ready.
*cough*
Not convinced? Here's the accompanying video.
It loses major points for not being convincing enough to be an actual prank, and gains them for being gross. It also gains points for the excess of fake facial hair and… more fake facial hair.
Alright, let's veer over towards Blizzard, the game developers I absolutely love for so many reasons. Well, partially their games. But mostly their shapely ankles.
DAYUM, BLIZZ, WHY YOU GOTTA HAVE SHAPELY ANKLES FOR?!
*Rhetorical*
Blizzard announced the release of Starcraft: Supply Depot: Combat Elevated, which looks about as stupid and awesome as it sounds. You literally get to play as a supply depot. But wait! It gets awesomer! As a nod to the Mass Effect ending debacle, they threw this into their list of game features:
• Endless hours of gaming including repeat playthroughs and Endurance Mode!
• Deep, rewarding gameplay—multilevel play control allows you to both RAISE and LOWER Supply Depot!
• Riveting backstory set in the StarCraft game universe!
• Get up close and personal with an iconic StarCraft hero!
• Multiple endings, each influenced by your choices and color-coded for your convenience! (Further epic endings planned for post release as downloadable content.)
• Tens of hundreds of thousands of unlockable hats!

Brilliant. And here are some screenshots!
And another! So ridiculous and perfect.
And because it's Blizzard, you can
hit up the site and play the damned thing
. God, I love this so hard.
Oh, and IGN premiered a super secret totally not fake glimpse at the new totally not fake at all Saturday morning Mass Effect cartoon!
Needs less Chobot. OTHERWISE AWES.
April the first was also the day on which Star Wars: The Old Republic announced a new playable class! You ready? You sitting down? YOU LIKE SARLACC?!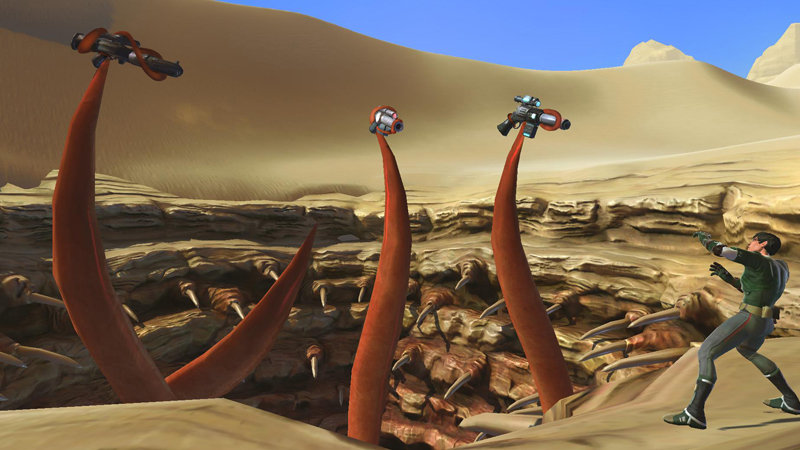 BEHOLD! THE NEW PLAYABLE CLASS, SARLACC ENFORCER! Man, this is like Christmas. The Sarlacc Enforcer, we are told, comes with class specific gear. Like so!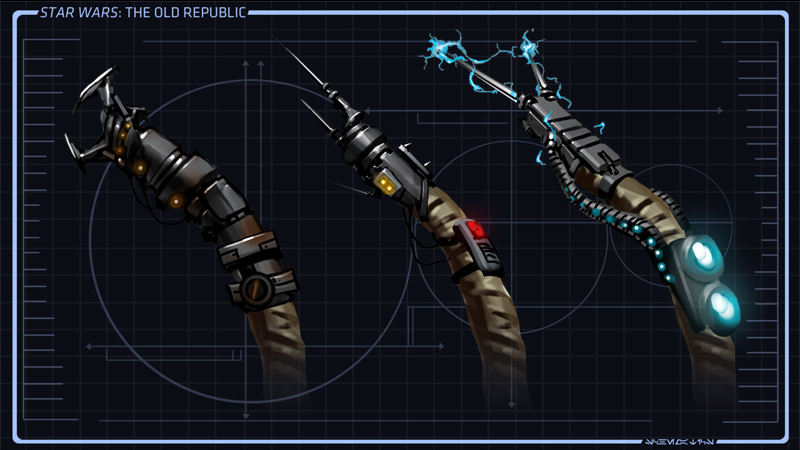 The website they've created to accompany the announcement even has a handful of videos included in the 'combat tactics' section. What kind of combat tactics could the Sarlacc Enforcer possibly whip out? ALL KINDS.
Whether meditating from a reinforced base in the desert of Tatooine, intimidating the pirates in the alleys of Ord Mantell, or doing some mercenary clean up on the lower levels of Coruscant, a Sarlacc has a trick up each of its countless sleeves. Taking a no-frills approach to hand to hand to hand to hand combat, the Sarlacci have a well-earned place among the galaxy's most feared warriors.

OP. I CALL OP.
Ubisoft have also joined the party of wonderful fake bullcrap, with this video on the release of Assassin's Creed for Kinect. The Kinect is one of those gaming devices which requires you jump around like a moron, so this video parodying said morons is TASTYCAKES.
And finally, because I'm running out of steam, the official Criterion twitter account issued an astounding statement on April the first:
@Criterion: This July, we'll be releasing Ivan Reitman's landmark KINDERGARTEN COP on Blu-ray and DVD: http://ow.ly/a0AO5

If you follow that link to their website… holy hell. Not only is it a seamless farce, but it's also accompanied by one of Criterion's 'Three Reasons' videos, explaining why they've deigned to give said film a Criterion release.
OH GOD THE COVER ART IS PERFECT.
…Ok, I think we've peaked. If you see any other amazing and nerd-driven April Fools stuff online, leave a comment below. LOVE YOU!
/Paul