Things and Stuff! Now with Mass Effect 3! Prometheus! Community! Star Wars!
Welcome to Things and Stuff! Things and Stuff is the very special time and place (worst sentence ever) where I run through all the best and weirdest nerd, tech, gadget and gaming stories that have tickled BOTH my fancies (ew) of late. Let's kick things off, shall we?
First, some more Mass Effect. As of the time this post was written, the
Retake Mass Effect 3 Facebook page
has 47, 883 likes, has raised about $70 000 for the Child's Play charity, has been featured on
CNN
and
Forbes
, and best of all, might have actually made shit happen. What Bioware dubbed the 'vocal minority' has become the highly vocal, organised and proactive majority. A day or so ago, someone on the official Mass Effect Facebook page made a statement to these fans telling them there'd be no new ending. This statement was quickly retracted, and the following amendment was put up instead:
"We would like to clarify that we are actively and seriously taking all player feedback into consideration and have ruled nothing out," reads the statement. "At this time we are still collecting and considering your feedback and have not made a decision regarding requests to change the ending."
HOLD THE LINE.
Wut.
It's not all hectic backlash news, though! Mass Effect 3, as I've mentioned, is an incredible game. With a creepy ending. Here's me expressing that sentiment in an angrier fashion for a show I'm on which I shan't plug, due to conflict of interests. But my argument is totally applicable.
Which is why people are pissed. For the most part. Anyway, if you have an IOS there are two legitimately fantastic apps that Bioware has ensured you'll be obsessing over: Infiltrator and Datapad. Infiltrator comes from IronMonkey, an Australian studio who've made a single player IOS title that loosely ties into the Mass Effect saga. Once you get used to the controls, it's pretty compelling to grind through, though it is a little on the short side. The controls take a while to grasp, but eventually charging, shooting and diving through various locales becomes pretty moreish. And if you're a Mass Effect 3 completionist, you can loot Cerberus intel from some of the tougher mobs you've downed, then upload it to your single player ME3 campaign, thereby increasing your galactic readiness.
Datapad, on the other hand, is devoid of action; it's basically the full Mass Effect codex (which I frigging love; I read every entry as it pops up in-game, a habit which confuses the hell out of some of my less… uh… attentive gaming buddies), combined with a tactical minigame which allows you to, again, designate task forces to various parts of the galaxy map, which increases your galactic readiness.
It also has a bunch of wallpapers, emails from characters as you progress through the game (this is, frankly, a mind-blowing feature in terms of immersiveness), and it has a somewhat ill-advised 'news' feed, which consists of tweets from the Mass Effect account. And given that most of those tweets are now apologising for the ending, it's probably a feature that should have been cut.
Alright, enough Mass Effect! Let's have a look at the other sci-fi story which has been dominating nerd brains the world over of late. PROMETHEUS. If you've somehow missed the torrential downpour of wonderment that is the Pometheus publicity… uh… worm, then here's the teaser that has had people so worked up.
And if, like everyone with a pulse, you feel that Community is the greatest comedy ever to grace our screens (and it really, really is), then you'll Shirley love this shot-for-shot season three re-launch trailer, which Harmon pooped out. Holy god this is some great marketing.
But Ridley Scott has equally amazing marketing chops: he released this fake TED talk, in which Guy Pearce gets up and talks big for a few minutes. Seriously worth the watch, especially for the reveal at the end.
And there's one last slab of Prometheus news: the full length trailer just dropped!
Alright, that's enough horror for one day. Let's move onto something a wee bit more whimsical. And pratical. SURVIVAL SKIS!
You know how you're skiing and then you're all, like, not skiing? Because you're trapped under an avalanche or whatevs. Well, watch how these skis go above and beyond being mere skis.
Stupid innovators and their sexy faces.
Next, some Star Wars news. Well, I say news. I do, in fact, mean reasonably humorous parody video news; here's a new video in which the needlessly stylised lightsaber duels in The Phantom Menace are mocked. And rightfully so.
But Star Wars isn't all bad! In fact, it's mostly great. Even when it's forcibly fused with Batman.
That's a customised Darth Vader / Batman action figure. Me? I'm a purist. If I'm playing with Star Wars figures, it's all canonical. How the hell would Darth end up fused with Batman? And how would Batman cope with being half douchebag?
Just quickly, though, I want to distract you with the best tattoo I've seen all week: Optimus Prime high-fiving a dinosaur.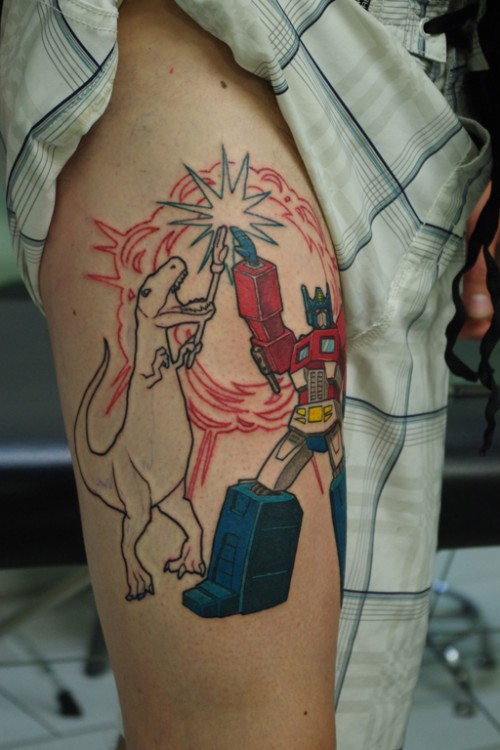 No additional commentary necessary.
And finally, let's have a look at The Happytime Murders.
That's some recently released concept art for a new film from the guys at Henson studios; it's already got a preemptive cult following, and could be the next Who Framed Roger Rabbit. Here's the official synopsis:
In a world where puppets co-exist with humans as second class citizens, puppet private eye and disgraced ex-cop, Phil Phillips, is hot on the trail of the serial killer who murdered his brother and is now targeting the cast members of the famous 80s television show, "The Happytime Gang." As the killings continue, Phil's former flame, Jenny, is next on the list. It's up to Phil and his ex-partner, Detective Edwards, to find the culprit, but as bad blood and old resentments resurface the clues start pointing to the only viable suspect, Phil himself. Now he's on the run with only his wits and hard headed determination, as he tries to solve, "The Happytime Murders."

Thoughts? Feelings? Emotions?
Anyway, that's all we have time for this week. See you soon!
/Paul