Out of character - famous figures in gaming 101
Gaming, however, is legitimately awesome, and lest you leave your gamer friends crestfallen, it might help to have some cliffs notes (of sorts) regarding key characters from the kind of game titles that make nerds violently wet. Each week, I'll present you with a lovingly hand-crafted biography of a computer game character; browse, commit to memory, carve on the thighbone of a long dead ocean leviathan and keep it in a satchel slung about your person.
To kick things off, I thought I'd walk you through the pure molten wonderment that is…
ALISTAIR - DRAGON AGE
Alistair is one of your companions in Dragon Age: Origins. Dragon Age is made by Bioware, the people who've made the Knights of the Old Republic series and the Mass Effect series (all ridiculously well made and immersive), and Alistair also happens to be someone that people genuinely want to hang out with in real life which, sadly, isn't possible.
Look at that handsome motherlicker. Alistair is so hot you could stick a fork in him. Right in his hot balls.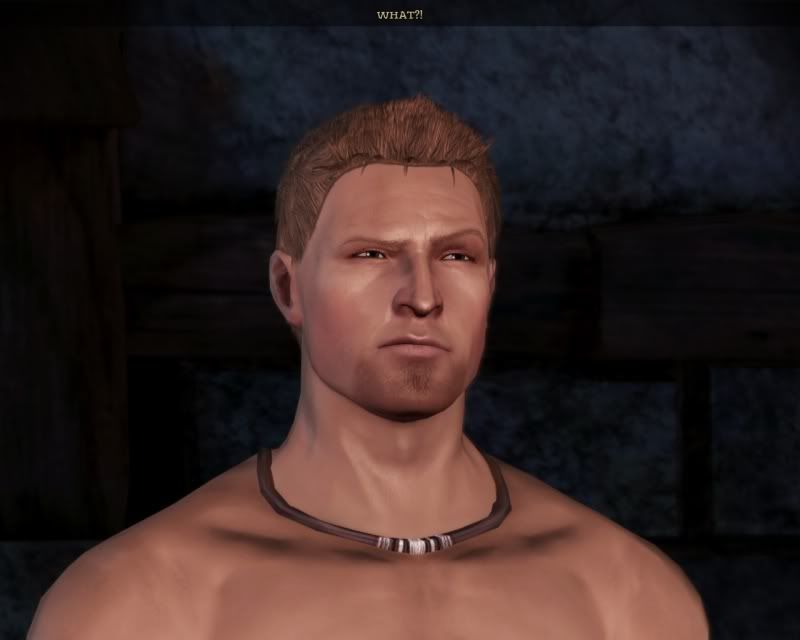 Fair point, Alistair. Sorry. Anyway, the whole appeal of Dragon Age is the incredible depth of character development. Your team really do become friends (or enemies, if you're a powerful dick; more on that later), and Alistair is the first companion to join you on your adventures. It helps that he's sarcastic, compassionate and fiercely loyal, but he's so real that by the end of the game, you'll find yourself (possibly) replaying the ending (if you're like me) to make sure (just maybe) that the epilogue is kind to him.
So what are some key facts you can fling at people who claim you don't know who the hell Alistair is?
Step one: make them watch this. How dare they question you.
Reader Dissaproves (-20)
Alternatively, you can rattle off these key facts. Try to work them into the conversation as replies, rather than blurt them out in a panic:
1.
Alistair is a Grey Warden.
Grey Wardens are a lethal, almost mythical order of warriors whose duty is to defend the world from The Blight.
2. Every couple of centuries, Darkspawn (horrific monsters, FYI) spew up into the world led by an archdemon, and
this is called a Blight
. A blight is almost as bad as that shitty Friday song, but not quite.
3.
Alistair was adopted.
Yes, he's a bastard. Here's Alistair chatting with the hero of the story (you) about that very subject:
4.
Alistair was, initially, a Templar.
Templars, in the Dragon Age universe, are sort of like mage police/bounty hunters. Mages are bound to their duties, and if they go rogue, Templars have to round them up, sometimes violently. Alistair hated this gig, and was recruited as a Grey Warden by Duncan, a man who would soon become something of a father figure to him.
5.
SPOILER ALERT. EPIC SPOILER ALERT. IF YOU INTEND TO PLAY THE GAME DON'T READ THIS.
Alistair can, if you play your cards right in the game, end up as king.
If you play as a woman, you can be queen alongside him. Basically, if you treat him well, his life gets better (i.e., him as king with you either as his queen or as his best friend and advisor). If you treat him badly, he can end up a drunken hobo, or get executed. And if you tickle him in the right places, he squirts hot love milk out of his…
Sorry, sorry.
6. He's voiced brilliantly by
Steven Valentine
, who deserves way, way more prominent work. I'm crossing my fingers for him making a totally awesome MASS EFFECT CAMEO! I'll calm down now. Incidentally, if you're having a conversation with your nerd friends about Alistair and they're about to figure out you've used this guide to cheat, just blurt out that there's a rumored Alistair cameo in Mass Effect 3. They can, and will, make violent love to you.
Oh, and Alistair also has some terrific banter with your other companions, especially Wynne. This audio has been inexplicably put behind cartoonish sprites, so ignore them and focus on the dialogue:
And here's another choice morsel:
He's basically like Wash from Firefly crossed with Malcolm Reynolds. From Firefly. In fact, Dave Gaider (the man responsible for writing the character) said he based Alistair on a cross between Malcolm Reynolds and Xander from Buffy.
One sad note: in
Dragon Age 2
, which came out about a week back, Alistair does indeed make a cameo, depending on how you treated him in the first game. But the artists at Bioware did something profoundly dickish and… well, the ruined his looks. Observe.
However, at least in the first game, he can incite properly weird lusty behaviour. Two friends of mine, whom I shan't name, are a couple, and they game a fair bit. The guy grabbed
Dragon Age
, and they both played whenever they could. The problem was that the girl got ahead in the game, and started to develop a fondness for Alistair, which the guy noticed. As a result, when it came time for him to hone Alistair into something far greater and more powerful, he belittled our beloved Alistair to the point where he actually left the party. Effectively, he jeopardised the entire future of Ferelden because he didn't like how attached his real life girlfriend was getting. This is an entirely true story, and it only goes to further consolidate how stupidly wonderful Alistair truly is. But he's not going to steal your partner, I swear.
You're not helping, dude.
That's BETTER.
There are some reference pictures at the top in a sexy little gallery for you, by the way; make sure you have a look before pretending you know enough to fare well against your nerd buddies. Have a long, hard look. Long. Hard.
By Paul Verhoeven is the writer and creator of the comic Lessons for Children and the blog Things and Stuff, both also on TheVine.