Oddities and curiosities - 3
Bob Katter sez, "Welcome to Oddities and Curiosities. Heteros only. Yeeeeeeeeeha!"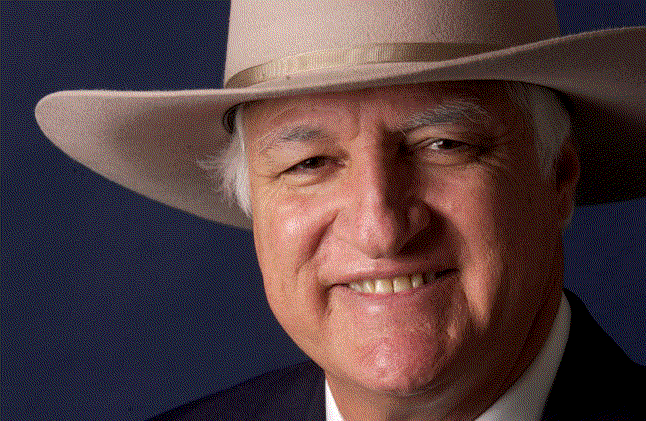 News Stuff
Speaking of Bob Katter (that GIF is seared forever into my brain), if things don't go well for him here, might I suggest a relocation to Belarus? Home to the last dictator in continental Europe, Belarus' leader Aleksander Lukashenko lashed out at criticisms of his authoritarian regime by saying it would be
"better to be a dictator than gay"
. Bob, Aleks, you two have so much in common! You should probably make out.
The big debate of this years SXSW tech conference?
The ethics of using homeless people as roving Wi-Fi transmitters
. Maybe that could be Tony Abbott's new alternative to the NBN...
You know you're in small town England when
you're being terrorised by a guerilla knitter
. Who is this man draping these epic scarves over our public areas?! The madman must be stopped!
Chinese spies created a fake Facebook profile of NATO's most senior officer and then
used it to extract state secrets from military officers in the UK and US
. Yes, yes they did. The Chinese agents seem surprisingly adept at FB considering it's pretty much banned in their home country.
Are you a child looking to commit a violent crime in Pakistan? Who isn't?! Well, might I counsel caution -
the country's Parliament recently turfed out a bill trying to raise the age of criminal responsibility from 7 to 12
. Their rationale: children in Pakistan mature quicker because of the spicy food. Appears scientifically sound.
And in Arizona,
it could soon be legal to fire an employee for using birth control
. Arizona: America's salute to the good parts of the Civil War era.
KONY KORNER:
Invisible Children receives significant portions of its money from anti-gay, creationist groups
;
the people who mistook Carl Weathers for Joseph Kony
; and
an interview with the journalist who ate donuts with Kony
. Delicious!
You're thinking of banning this guy? Don't ban him! Hire him on a part-time basis!
Science Stuff
Well, it's official.
Red meat makes you die
. Processed meat makes you die even faster. Stupid, lousy science.
Well, it's official.
Spending time in space makes your eyeballs compress
. Stupid, lousy science.
Researchers have gathered the first ever images of individual atoms moving within a molecule
. Probably not of direct relevance to your life (unless you happen to be an atomic scientist, in which case I guess you're in your... element. HAHAHAHA... I'll let myself out), but still pretty cool.
Well, as it turns out,
individual bees may have their own personalities
. Which presumably comes from the same school of science that worked out that
feeding bees cocaine caused them to dance more vigorously
.
Want all the fun of hallucinogens without actually taking a classified substance? Well,
pressure phosphenes may be for you
. Just close your eyes, start rubbing (gently, mind), continue rubbing, continue rubbing, continue rubbing and boom. Astral tunnels. And a new glasses prescription. Perhaps a trip to space would fix it...
Although if you happen to be an alcoholic, here's some evidence suggesting that
dropping acid could help you beat the bottle
.
A handy satellite tour of the world's biggest slums. This is Sadr City, population 2 million.
And while we're talking slums,
more people in India have a mobile phone (59%) than a toilet (47%)
. That is quite the resource allocation.
Here's a woman who is in a serious relationship with the Statue of Liberty. My favourite part: the daytime TV hosts trying to tip-toe around the question of whether the interview subject has had sex with a drum kit.