According To Study: Does Listening To Deviant Music Actually Lead To Delinquent Behaviour?
The words 'according to a study' can be used to justify any old garbage, and the average reader has seen enough bullshit 'studies' reported in the media to be suspicious about them all. So this is a new series for TheVine. So far we've looked at whether cute cats actually increase productivity, whether whether bacon actually causes cancer, whether being spiritual makes you more likely to have psychological problems?, whether people think they actually won't change in the future, and whether too much online gaming is a mental illness?. This week: does listening to deviant music cause delinquent behaviour?
==
A study on teens listening to deviant music becoming delinquents has been going around the traps. The Courier Mail reported the main findings as factual: "A new study shows a strong, early penchant for gothic, punk, heavy metal and hardcore dance music can be a predictor of teens who will go astray. Lovers of "deviant" music by age 12 were "more engaged in minor delinquency in late adolescence", the four-year study, published in the journal Pediatrics, found. The bad behaviour - which includes shoplifting, vandalism, fighting and graffiti spraying - peaks about 16 then falls away. By contrast, pre-teens whose playlists feature mainstream pop, jazz and classical music don't experience the same taste for trouble". The Courier Mail article then got a quote from a developmental psychologist, Kathryn Modecki, telling parents not to worry too much, and some quotes from teen musicians: "Music student Dana Biondo, 15, is a heavy metal and alternative music fan but said her musical taste doesn't make her "crazy"" (Not that delinquent behaviour is actually crazy, per se). The Courier Mail article was probably based on the one by venerable American magazine The Atlantic, which also reported the research straightforwardly, without judgement.
Elsewhere on the internet, pop-culture-focused outlets have been more skeptical of the research. Daniel Kreps at Spin calls the study 'ridiculous' and 'a load of bullshit', pointing out that mainstream pop is full of references to sex and drugs. Jezebel's Lindy West rails against the article, saying "Oh, come on, you guys. How many times are we going to chase this dumb rabbit around the track?", explaining how pop music is occasionally subject to moral panics from parents worried that it's destroying our kids. Even Perez Hilton, of all people, chimed in, saying "There is definitely something OFF about this study!".
Honestly, your reaction to this research thus far is probably the result of confirmation bias, your ability to see what you want to see. If you like loud music, you probably think it's rubbish, and if you think metal and hip-hop are a bit scary, you probably think there might be something to it. So who's right? Nobody and everybody, in a way. Let me explain the research (which you can read for yourself here).
Dutch researchers were interested in what caused adolescent delinquent behaviour, and so they got 309 kids from two-parent families from urban areas of the Netherlands to fill out a couple of (quite long) surveys each year for four years, from the ages of 12 to 16. In particular, they got the kids to give info about how often they've done delinquent behaviours in the last 12 months (e.g., to say how often they'd done things like shoplift, draw graffiti, been in a fight, etc), and then to rate their liking of various genres of music on a scale of 1 to 5, where 1 is dislike very much and 5 is like very much (with a separate box to tick if they'd never heard of the genre). When they got participants to do this, they found that most of the kids liked chart pop, R&B and hiphop, while fewer kids, overall liked rock, metal, gothic, punk, trance, techno, classic, or jazz.
The meat of the study was the
correlation
that the Dutch researchers did between the kids' delinquency surveys and their ratings of the genres of music they like. As the
Courier Mail
reported, kids listening to pretty much anything other than classical music, jazz and chart pop is significantly
correlated
with delinquent behaviour. Now, it's important to point out what this word 'correlated' means: basically, it's just a way of saying 'mathematically related'. If a study reported that there was a correlation between liking ice cream and liking Gotye, it means this:
the more you probably like ice cream, all other things being equal, the more you probably like Gotye
. Notice the caveats in the phrase in italics: "
probably
", and "
all other things being equal
". And, also, notice the word missing in the phrase in italics: "because". So why the 'probably'? It's because correlations are done with lots of data from lots of people. They're trends, rather than ironclad laws (unless the correlation equals 1, which it pretty much never does). Just because there is a correlation between liking ice cream and liking Gotye doesn't mean that there aren't plenty of people who like ice cream who do not like Gotye. And when I said "all other things being equal", what I meant is that there's lots of
other things
out there that are also correlated with either liking ice cream or liking Gotye - everything from whether you're Australian to whether you have diabetes, I'd imagine! These
other things
may 'get in the way' of the relationship between Gotye and ice cream for lots of people. But when you adjust the maths to account for them being there (something that's pretty commonly done), the relationship between ice cream and Gotye - the correlation - remains. And the reason why the word 'because' wasn't in that phrase? Well, you probably don't like ice cream just
because
you like Gotye, or vice versa. If there's a reason why people like both, it is quite likely to be something else.
And so when Dutch researchers find a correlation between delinquent behaviour and liking certain kinds of music, remember that they haven't shown that delinquent behaviour causes liking, say, gothic music, or vice versa. And remember that they have only shown a trend. If you look at their data, they report a correlation between delinquent behaviour and liking metal of 0.25 (at age 12) and 0.29 (at age 16). These are mathematically significant correlations, meaning it hasn't happened by chance. But they're not huge.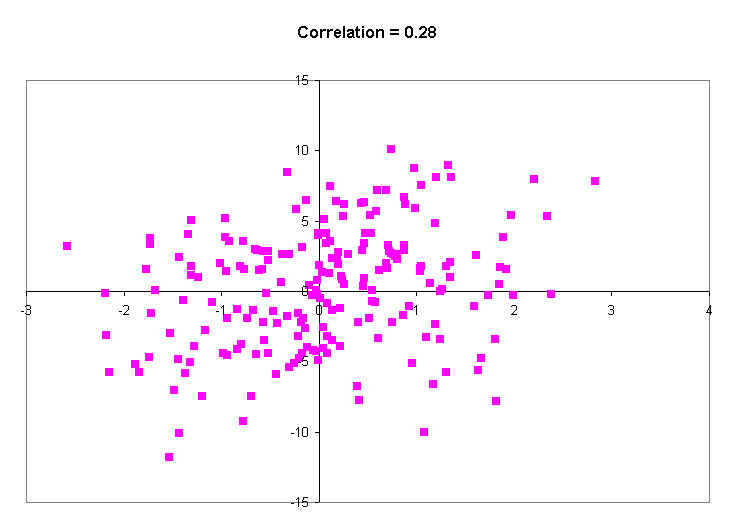 Above is a graph of what a correlation of 0.28 looks like (which I found here). It's not from the delinquent/deviant study, but the size of the correlation is similar enough. So let's pretend that each purple dot is a teen in the Dutch survey, and you'll get a sense of what's going on. The higher on the graph you go, the more delinquent behaviour you do. The further right on the graph you go, the more you like metal. There are people on that graph who are really into metal who behave like angels. There are people who really aren't into metal who are VANDALISING THINGS ALL THE TIME. But, overall, there's a few more people who like metal and act up (the people in the top right square) than people who don't like metal and act up (the people in the bottom right square). This is the kind of trend they're talking about. Listening to metal doesn't account for all that much delinquent behaviour, but it accounts for some.
Continues next page.
One thing about the Dutch study we're talking about is that it's a sort of 'added bonus' study. The Dutch researchers were actually really interested in parents and how they relate to kids. In 2009 they published the same data on delinquent kids, more or less, except that in 2009 they didn't correlate deliquency with music; they correlated it with more obvious, serious stuff about how the kids related to their parents (which they also asked the kids and their parents about). They found, perhaps unsurprisingly, that adolescents who had told their parents more about their lives, and whose parents showed more interest in their lives showed less delinquent behaviour. The other thing about the data in the 2009 study is that it does show that Dutch teens with undivorced parents aren't really that into delinquent behaviour (at least, according to the Dutch teens themselves). Only 34% of 12-year olds and 34% of 16 year olds reported any delinquent behaviour in the last year, and the average score on the delinquency survey was 1.54, meaning that the average Dutch teen in the survey had only done a single delinquent behaviour once or twice. Which probably means they mostly wrote on a desk at school a couple of times. Looking at the amount of variation in scores, it looks like it's a pretty small amount of kids who are really doing serious amounts of delinquent behaviour. This probably means that the vast majority of Dutch kids who like metal (or punk or hip-hop, etc) aren't anywhere as into vandalism and starting fights as you'd think from reading the headlines.
Of course, there's a sticky point here: how do you measure delinquent behaviour? You could look and see how many of the teens have police records (as opposed to records by
The Police
), but there's privacy laws. And plenty of teens shoplift (for example) without getting caught. So, in the end, the only really way you can measure it is to ask the teens, to get them to do a survey. And that's what the Dutch researchers did - they asked them a bunch of questions about various 'delinquent' behaviours (in Dutch), which participants answered by ticking boxes (e.g., 1 for never, 4 for 4 or more times). These questions included stuff like whether they'd drawn graffiti, been in a fight, starting fires, shoplifting, etc. The usual stuff teens allegedly do. However, when a researcher asks this kind of question, it's vital that they do this
really carefully
. I mean, if the kid doesn't talk much with their parents (and plenty of teens don't - my mum tells me that I mostly grunted a lot at that age), they're probably going to think twice about admitting to drawing graffiti in their parents' presence. And the kids may also be pretty suspicious of researchers asking them this stuff. Researchers in studies like this will always say that the results are confidential, but kids might not believe this because the researchers are adults; they're authority figures that they may not trust. Sadly, the researchers don't say much (in either 2009 or 2013) about the circumstances of how they asked the teens these questions, beyond saying they were kept back after school to do the survey, and paid $13 dollars for their time. Because of this, it's hard to tell whether they've done their best to ensure that the teens felt they could be open.
And so, remember when I said that a correlation is saying something like "the more you probably like ice cream, all other things being equal, the more you probably like Gotye"? What the research here is looking at isn't quite that. It's more like "the more you probably say you like ice cream, all other things being equal, the more you probably say you like Gotye". One thing that could be the reason why kids who like metal are more likely to say they do delinquent behaviours is not because they do delinquent behaviours any more than anybody else, on average. It's because they say they do delinquent behaviours more than anybody else. After all, a kid into metal might be more likely to want to prove that he or she is a rebel in a way a kid into classical music might not. And so, when asked to say what they've done, the kid into metal might exaggerate his delinquency a little bit, whereas a kid into classical music might exaggerate how angelic they are.
The other issue I have with the study comes from the "all things being equal" bit of correlations. Remember, correlational surveys like this usually attempt to take into consideration other factors, in order to more effectively focus on the things they're looking at. And the study we're talking about is no different. They adjusted their scores to take into consideration stuff like gender, how committed the kids were to school, how well they were doing at school, and personality characteristics (i.e., whether they're more neurotic, or more open to new stuff, etc). However, there's a bunch of stuff they
didn't
take into consideration: they didn't look at socioeconomic status (i.e., whether the kid comes from the rich side of town or not), they didn't look at how much music the teens listened to each day, they didn't look at how much the teens' testosterone levels were surging. And, oddly, they didn't seem to look at the teens' relationships with their parents, even after they had shown that this was important in 2009. I would be very curious to see whether including any of these in the maths got rid of the correlation between the 'deviant music' and delinquent behaviour. After all, if they did get rid of the correlation, it would suggest that the relationship was better explained by the other factor, that it could be that it's the surging testosterone that causes both the delinquent behaviour and the desire to listen loudly to Metallica.
The
Courier Mail
quoted the research article as saying this: "
Music is the medium that separates mainstream youth from young people who may more easily adopt norm-breaking behaviours. In peer groups characterised by their deviant music taste, norm-breaking youth may 'infect' their friends with their behaviours.
" However, they haven't actually shown that this 'infection' occurs, because their research was looking at
relationships
between things, not
reasons
for things. And they haven't shown that music
separates
the mainstream from the norm-breakers - their correlations weren't
that
big. What they have instead shown is that Dutch teens who admit to a little delinquent behaviour are a bit more likely to say they like punk and metal than Dutch teens who say they're angels. Which to me, sounds about right.
But research using surveys, like this one, mostly can't really show why things tend to happen together, only that they tend to happen together. If you want to find out why - that is, you want to know what causes something - you have to do experiments. Perhaps, if you wanted to find out whether metal is the culprit, you could try to get some 12-year-olds into metal and see what happens afterwards compared to 'normal' kids. I'm sure their parents would thank you. In the end, it's probably best to see the research as showing that there's something about listening to music that's not chart pop, or highbrow music (jazz, classical) which makes teens more likely to tell researchers they act up. But whatever that something is is still a bit of a mystery. With that in mind, this research is part of the stream of science - it's another bit of data which might help scientists who are trying to help teens in general. It got published because it might help future researchers who can expand on it and improve it. But on its own, it's not enough of the whole picture for the general public to need to pay much attention to it.
And, of course, other research shows that listening to angry music can be a positively useful thing in certain situations, and that teens regularly use music to regulate their emotions; listening to angry, noisy music is often a way to safely vent overwhelming emotions.
Tim Byron
P.S. I also could have gone on for some length about how weird it is to get kids to rate genres and how 'chart pop' isn't really a genre with attached subculture and style of dress in the same way that 'punk' or 'metal' is, and so comparing them is a bit weird, but this is already long enough!