The wash up from Hollywood's night of nights
Well, it certainly was the 85th Academy Awards, wasn't it? Host Seth MacFarlane confirmed everyone's suspicions that he'd turn it into The Seth MacFarlane Variety Night, and Anne Hathaway was exactly as disingenuous as you thought she'd be. So, now that the stars are sleeping off their afterparty hangovers, what's the washup from Hollywood's biggest chook raffle?
Let's start with the sourest note of the night: how funny it apparently is to call a nine-year-old black girl a c--t! Oh, you missed it?
Yes, those bastions of fine satire apparently took their cues from MacFarlane's mean-spirited hosting gig and thought it would be a good idea to post this tweet. After an hour's worth of deserved outrage, they deleted it, then released a too-little-too-late apology [The Onion Tumblr]: "On behalf of The Onion, I offer my personal apology to Quvenzhané Wallis and the Academy of Motion Picture Arts and Sciences for the tweet that was circulated last night during the Oscars. It was crude and offensive—not to mention inconsistent with The Onion's commitment to parody and satire, however biting." Gee, you don't say. As blogger Elizabeth Hawksworth put it, "Quvenzhané Wallis is a nine year old woman of colour. Let's let what @TheOnion did sink in and remember that Dakota Fanning never had this."
Biting satire was the order of the evening when MacFarlane thought it was time for Ted to make a series of anti-Semitic gags, which drew the ire of the Anti-Defamation League [THR]. "I was born Theodore Shapiro and I would like to donate to Israel and continue to work in Hollywood forever" was just one of the many fresh zingers MacFarlane faxed in from the mid-'60s. In a statement released Monday morning, the ADL said: "While we have come to expect inappropriate 'Jews control Hollywood' jokes from Seth MacFarlane, what he did at the Oscars was offensive and not remotely funny. It only reinforces stereotypes which legitimize anti-Semitism. It is sad and disheartening that the Oscars awards show sought to use anti-Jewish stereotypes for laughs."
If you still need more reasons to feel depressed, how about a slice of the inanities that female Oscar winners are subjected to once they hit the press-line backstage? The focus seems to be on how "Jennifer Lawrence did a shot before going into the press room and here's the result" [Gawker] but not the dunderheaded questions about diet and makeup routines that were lobbed her way. Oh and shoutout to the dropkick who wanted to know if she felt she'd peaked too soon, mere minutes after she won her first Oscar:
I have been on roundtables with these sorts of journalists, and I can tell you, what you see above is par for the course: women get the diet/relationship questions, men get the "tell us about your craft" questions. As the Louvin Brothers so sagely taught us, Satan is real.
On the Jennifer Lawrence tip, but slightly less deadening to the heart and soul, have you ever wondered what effect an Oscar triumph has on the business side of, er, the business? A stock exchange boost [THR]! Yes, evidently Lawrence's Best Actress win sent Lionsgate - the mini studio that brought us The Hunger Games - soaring to a 52-week high: "The stock of the mini studio climbed 25 cents at the opening Monday morning on the New York Stock Exchange to $20.99, a 52-week high well above its 52-week low of $11.26." Buy, buy, buy! Or is it sell, sell, sell?? Don't ask my accountant.
If you spend the night wondering what sorts of exciting things happen backstage, then this collection of behind-the-curtain candids has the answer [Daily Mail]: not a whole lot, as it turns out. Seems to mostly be looking at monitors and doing mic checks and being told to please be quiet, and not the coke-fuelled orgies you might have hoped for. However I thank the backstage photography gods for providing us with this shot of Barbra Streisand and Richard Gere:
Praise Her.
In other photography news, someone with swift fingers has done some expert pausing to bring us this gallery of The Best Frozen Moments of the 2013 Oscars [Vulture] including a collection of Kristen Stewart's "total bummer, man" smiles and some priceless reaction-to-MacFarlane's-"humour" shots. Here's my favourite freeze-frame/caption combo: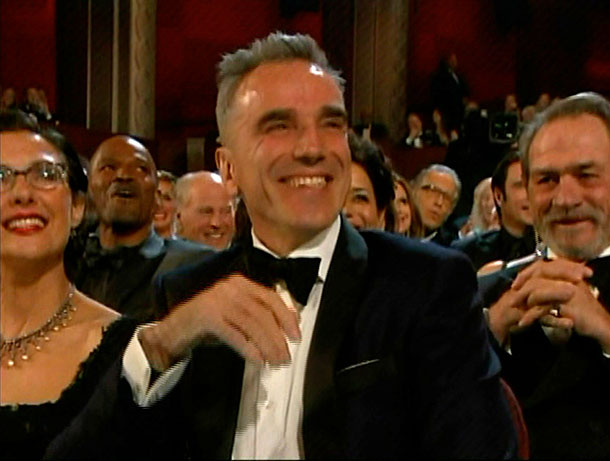 Foxx: "OOOOOooooo."
DDL: "HeHaha."
TLJ: "While everyone looks up and to the left, it's my time to finally get a good look at Daniel without that gnarly facial hair. Mmm, yeah, that's the stuff."
Many intriguing articles get buried in the "OMG WHO'S WEARING WHO" avalanche in the lead-up to Oscar night, which means you might have missed this Wall Street Journal rundown of The 10 things the Oscars won't say [MarketWatch]. Though it's primarily business-based (and features sobering news for those who thought it was a banner year for ticket sales), it also packs a grim punch about the reality of the Oscar landscape: "Experts say credit is not always given where it's due by the Academy's 6,000-plus lifetime members, an assortment of working artists and professionals — from producers and directors to costume designers and make-up artists. (Notably, a 2012 survey by the Los Angeles Times found that the Academy was 94% caucasian and 77% male, with a median age of 62.)" Might that have something to do with the stars of Django Unchained and The Life Of Pi who weren't white men being overlooked for acting nominations this year?
If you're one of those people who goes immediately into mourning once awards season finishes (I wouldn't know anything about that...), why not start the 2014 Oscar race early [THR]? Yes, The Hollywood Reporter has a tip sheet for the films that could be Best Picture contenders this time next year. In the mix? The big-screen adaptation of Pulitzer and Tony-winning play August, Osage County: "Dysfunctional family dramedy (a la Silver Linings Playbook); Meryl Streep starring; Argo producers George Clooney and Grant Heslov; Harvey Weinstein releasing. Nearly all the Oscar elements."
And finally, let's sum up the 2013 ceremony with this stunning GIF set that features noted awards show fan Joaquin Phoenix:
See you next year, Oscar; see you next Tuesday, reader.