Pain & Gain: Michael Bay makes a Coen Bros movie
We all have those "maybe I'll throw it all in and..." type plans that we hold onto to get us through the drudgery of life. Perhaps you've always wanted to quit your job and learn how to fly a plane, or finally train as a swordfighter, or whatever.
For me, it was always "...go study film theory and write a thesis about Michael Bay".
I've long suspected that Bay is actually one of Hollywood's most self-aware filmmakers (that Verizon Fios ad confirmed it): the explosions, the bizarre camera angles and sudden zooms on double-takes and moments of clarity, the upskirt-oops shots, the utter ridiculousness of everything he does. He's the bizarro world Terrence Malick.
More than ridiculousness, though, Bay's work is typified by strangeness: go watch Armageddon again, the dude is weirder than Jodorowsky.
Well, before I end up writing that thesis on this very site, Bay seems to have reached peak strangeness, if the newly released trailer for Pain & Gain is anything to go by:
Uhhhhh...
According to our pals at Wikipedia, "The film is based on a 1999 series of Miami New Times articles by investigative journalist Pete Collins about 'a couple of Florida steroid-abusing knucklehead bodybuilders who become criminals involved in an extortion ring and a kidnapping plot that goes horribly awry.' Mark Wahlberg, Dwayne Johnson (both playing the roles of incompetently murderous bodybuilders) and Ed Harris have starring roles in the film. Harris plays private detective Ed Du Bois who cracks the case after the Miami Police Department fails to do so."
But where do you even begin with this trailer? If the film is, as is widely alleged, an "action comedy", why does the trailer read like some sort of abstract, oddball drama? Specifically, why does it feel like Fargo with more jacked up delts?
There has long been speculation that Michael Bay is a Coen brothers fan, as this concerningly obsessive infographic from Film Detail compellingly suggested a year or so ago: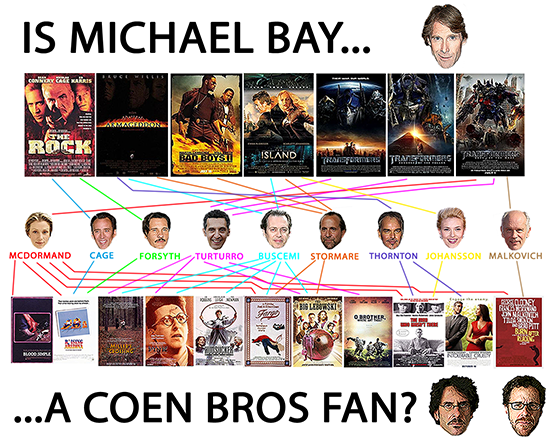 Pain & Gain, on the other hand, looks like Bay trying to make a Coen brothers film - and it turns out that's not at all coincidental: "Michael Bay has described his next film, Pain and Gain, as being similar to a Coen brothers crime film".
Well, sure, if by "similar" you mean "what the Coen brothers might make if they were brain-damaged by excessive steroid use".
There are so many questions to ask! Will the film feature crew credits for protein chefs, spray tan artists, and muscle-specific trainers? How much huger can The Rock get before he actually explodes? Exactly what happened to Mark Wahlberg's mind?
Whatever the truth may be, Pain & Gain is set for release in April 2013. Get started on your lats now.