Hollywood serves up a symphony of questionable casting
If you're still in thrall to the Iron Man series (personally, I peaced out midway through the ear-bleeding cacophony of Iron Man 2; professionally, obviously, I'm still right up in it with Kevin Feige and the rest of the Marvel Studios crew), you'll be all over the latest news from camp Iron Man 3.
That is, a teeny tiny teaser trailer, and the first look (other than at the last San Diego Comic-Con International) at Ben Kingsley as Stark's latest nemesis, The Mandarin:
Pretty cool, huh? Except, wait, hang on a minute, doesn't The Mandarin - as his name suggests - look more like this?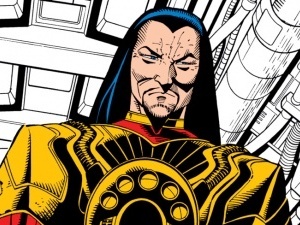 Yes, because The Mandarin was born in China to an English mother and a Chinese father. Kingsley, on the other hand, was born in Yorkshire, the son of an English mother and an Indian father.
Fan reaction has ranged from muted to hostile, with the release of the official image reopening wounds last poked back at SDCC time, as this New York Times blog and accompanying comments demonstrate.
Said commenter DH at the time, "I cannot believe that anyone would think this a good idea and am shocked that Kingsley, who is biracial himself, would take such a role. It is terribly racist and astounding that people would condone this. I am aware that we are still a deeply racist society, but something like this seems so incredibly antiquated. There are so many extremely talented East Asian actors out there who have a hard time finding work." Recent comments on the release of the still are a little more succinct: "WTF"
There's been scant word on whether or not Iron Man 3's incarnation of The Mandarin will retain the character's family history, or if they've adjusted his bio and just kept the now nonsensical name (which itself is a product of a less-than-savoury time in race relations).
It's just the latest in a string of questionable casting decisions for major studio releases.
Recently, the casting of Zoe Saldana (whose father is Dominican and mother Puerto Rican) as Nina Simone (a dark-complexioned African American) drew widespread ire.
And, in perhaps the queasiest of all upcoming films' casting decisions, the Wachowskis and Tom Tykwer's Cloud Atlas features various members of its cast engaging - via special effects makeup - in yellowface and brownface (the POC castmembers also appear in whiteface). A sampling includes:

Hugh Grant

Jim Sturges

Hugo Weaving
As Racebending's Mike Le put it, "In watching the Cloud Atlas trailer, the parallels are clear. As with these other films, we see that white creators and performers are permitted to determine what it means to be Asian. It's frustrating, because the trailer suggests a story that comfortably meshes with preconceptions and stereotypes of Asians: of a futuristic world of high technology and little soul, where the "all-look-same" vision of Asianness is directly translated into racks of identical, interchangeable Asian "fabricant" clones. It suggests a world where white actors (in yellowface) and Asian actresses enter into romantic trysts–while excluding the voices and faces of Asian American actors."
If you need a primer in why all of the above are worth getting upset about - and why "But Halle Berry and Xun Zhou are doing whiteface, therefore the playing field is equal!" isn't an appropriate reaction - cast your mind back to this year's Oscars, during which Billy Crystal wheeled out his old Sammy Davis Jr. impression, a "hilarious" throwback otherwise known as blackface.
This chart put together by Racebending in response to the furore that arose after the ceremony is a handy way to understand the situation:

(Click to read full-size)
It's depressing to think, after all these years, that so little has changed in Hollywood.
As the debate over the casting of Jennifer Lawrence as Katniss Everdeen in The Hunger Games demonstrated, unless otherwise specified in the body of the screenplay, the tendency when it comes to casting is to assume whiteness of all characters.
But where a character's ethnicity is explicitly stated in the script or the material to be adapted - especially when said adaptation is a biopic - the mind boggles as to why casting agents and directors seem to throw caution to the wind and go for whoever happens to be available.
It's the 21st century: why does filmmaking seem to be slipping back into the early days of its 20th century incarnation?